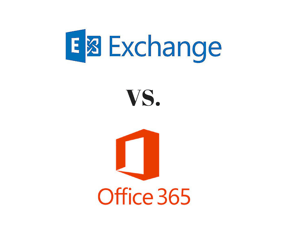 In the arena of Microsoft email servers, two options are available for customers to manage their internal written communication: Exchange Server 2016 and Office 365.
Each has its own advantages and implementation challenges and finding the right one to fit the company can sometimes be daunting. Boiled down, the main difference is one is a self-hosted system (Exchange 2016) and the other is cloud based (Office 365).
Both services provide the same functionality: email communication, calendar and meeting scheduling, and contact management. The key difference between the two is control.
Exchange 2016 is a self-hosted software package running on Windows networks and residing on a company's own hardware. It requires an investment of both hardware infrastructure and software licensing. The total Exchange solution is a decently-equipped server running Windows Server with Exchange 2016 installed. Each client on the system can use the web-based Outlook Web Client (OWC) or connect via Microsoft Outlook (a part of the Microsoft Office Suite of applications) or via a IMAP- or POP-enabled client.
In addition to purchasing the server with Windows and Exchange 2016 installed, a client license is required for both Windows and Exchange mailbox for each user connecting to the server. These are just the hard costs associated with the server. There are various soft costs that have to be factored in as well. Finding a skilled IT professional with Exchange experience adds to the bottom line when managing the environment. This can be fairly pricey for small businesses to pony up just to get email flowing into their company.
A number of years ago, Microsoft recognized this cost limitation for businesses and built a subscription-based model to their popular email server called Office 365. A simple, monthly subscription is all that is required for users to have a mailbox for their company and the server is hosted at Microsoft and managed by Microsoft professionals. The management of a company's email server is now an easy task — simply creating users and assigning passwords. Most companies that run Office 365 do not have a dedicated network engineer for email management any longer. The server is robust and scalable and always online and, best of all, updates and upgrades are managed by Microsoft.
Most Office 365 subscriptions come with the latest Office Suite to be loaded by the end users. This includes Word, Excel, PowerPoint and Outlook so standardizing by the company on the Office 2016 platform can happen in a cost-effective manner.
Converting a company from an older Exchange server or an external, non-Microsoft service to Office 365 can be performed easily. Algorithm has the Microsoft certified staff ready to help your business move to either locally-hosted Exchange 2016 or to migrate email to Office 365.