Imagine 4 Centuries of Experience Working for You
Algorithm has worked in the Macola ERP space for 25+ years and our team has over 400 years of combined experience. Our on-premises and legacy system knowledge grew exponentially during the Macola systems era and has advanced into transitioning our customers to ultramodern systems.
ERP Analysis
We connect the dots and understand the impact of your current ERP system. Navigate your options with confidence and trust.
Data Migration
We'll ensure that your data and the processes, including all forms, reports, dashboards, etc., are 100% accurate.
Implementations
ERP cannot be an off-the-rack implementation. One size does not fit all. See the difference with our tried-and-true methodology.
We Know Your Pain Points
Macola suffers from an old client-server architecture that is no longer maintaining core capabilities and is struggling to keep up with needed functionality.
No R&D to expand product and no go-to-market strategy.
A cumbersome interface with a steep learning curve for new employees.
Insufficient and delayed customer support and no direct representative.
Limited hosting options and roadmap to the cloud is not clear.
Expensive forced upgrades with meager functionality improvement.
Migration from other software is difficult.


Weak response while integrating with 3rd party software.
Add-ons to export reports to Excel that's difficult and slow to use.
Be More Efficient & Cut Costs
Adoption of modern ERP technology continues to increase worldwide as businesses move to achieve efficiencies, on-demand service, network elasticity and expanded network access.
Companies are soon upgrading or planning to update ERP systems
Companies select a cloud-based ERP and opt for a SaaS model
Companies seeking guidance for ERP implementation
Companies identify accounting as most critical ERP function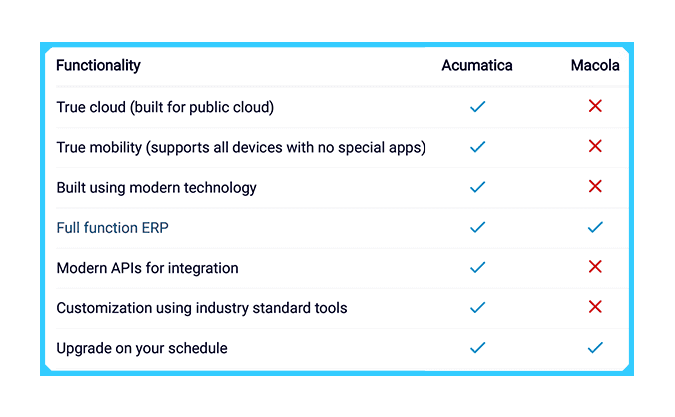 Together We'll Transform Your Business
Our Clients Say
"We were left without a number on the other end to call, who we needed, for problems and that just caused so many server and IT issues."
"It's a good thing we actually switched to an online service so people aren't having to dial into a server, which is what we had to do before. It makes it a lot easier to access information working remotely."
"It gives the ability for management to be more flexible from anywhere. I don't have to be onsite to fix the issues that come up."
How can we help?
Do you have a quick question or a specific project deadline? One of our ERP Experts will reach out to you within 24 business hours; we promise. And we will never sell your information.