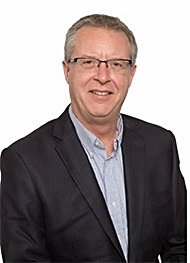 Jeff Jenkins brings a wealth of experience to his role as an Account Manager at Algorithm. Jeff's post-graduate background includes over 10 years in the mortgage and finance industries, with an emphasis on sales and account management, and almost 5 years in the software industry.
He was the Business Development Director for a financial asset analysis and trading software developer, responsible for all aspects of the client and partner acquisition processes in addition to being a key contributor to corporate messaging and branding, marketing, and sales efforts. Jeff dramatically increased company sales, in part, by establishing significant partnerships and alliances with several large international financial institutions.
Prior to joining Algorithm, Jeff was a Client Development Manager at an ERP provider, providing him a unique understanding not only of the software product lines but also of the challenges encountered by users.
Jeff's educational background is in literature, language, philosophy, and semiotics.
What do you most look forward to whe going to work at algorithm?
Despite the fact that everyone at Algorithm has defined roles and responsibilities, the likelihood is very small that any two consecutive days are going to be the same. At Algorithm we work with a large variety of companies from very diverse industries.

Because each company and industry has its own unique set of challenges and needs, every day potentially will involve learning something new.
Do you have any advice for others looking into this career field?
My advice for someone looking into any career field, not just this one, is that you must be able to communicate effectively. Make sure that your facility with language, preferably multiple languages, does not limit the opportunities open to you.

Being able to express yourself in both speech and written form are skills that translate across industries and professions. Moreover, being able to listen closely (and I mean listening to both the words someone uses and the intended meaning behind the words) is also a critically important skill because often one has to discern, almost translate, what someone is actually trying to say.
what is one gadget or technology that you can't live without?
While most people today likely would answer their smartphones or the Internet, there is really one technology that not only make those things work but is vital to the modern economy and life to exist as we know it: Electricity.
Not having cell service or Internet for a time can be frustrating; not having electricity for a time can be life threatening. Several years ago we experienced a massive ice storm that knocked out power to several hundred thousand people for over a week, and it brought the importance of reliable electricity service into high relief for me.
Not only did we, including our dog, have to find someplace else to stay, but the company I worked for at the time could not open due to a lack of heat. The level of disruption that comes with no electricity is much, much greater and extends to almost every facet of modern life.
Do you have a quote or life motto to live by?
"Don't follow leaders, watch your parking meters." – Bob Dylan
"You are just as responsible for everything you see as you are for everything you do." – Michael Herr
What is your preferred playing piece in monopoly?
The Race Car. When I was 5, and learning how to play Monopoly, I thought the car could go around the board faster.
Do you have a favorite vacation/get-away spot?
The Kohala Coast on the Big Island of Hawaii. There is nothing else like snorkeling in the Pacific, especially when visibility extends 100' or more. Some of my favorite golf courses and restaurants are also nearby.