1 EDI Source, Inc. is a leading provider of electronic data interchange (EDI) software and outsourcing solutions. For more than 20 years, the company has served the EDI needs of businesses ranging in size from single-person operations to Fortune 500 corporations. Visit www.1edisource.com for more information about our products and services.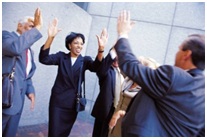 Has your current EDI solution left you hanging? Are you experiencing incomplete functionality, lack of documentation or limited resources? Start the New Year off right by considering the switch to a full-service EDI provider. Many EDI providers offer a hodgepodge of EDI software solutions and services. This can be challenging since it often leaves your team with EDI "integration" that requires manual processes.
Today we'll outline three benefits of choosing a full-service EDI provider.
1. Company Sustainability
With a full-service EDI software provider, the ability to deliver scalable solutions based on your business needs offers tremendous value. As your company's sales and customer frequency increase, your business will eventually need to switch to a better-suited EDI solution. Your company may start with a web-based EDI solution. However, in juxtaposition with a growth agenda, find value in implementing a hosted or on-premise software solution. A full-service EDI provider will deliver a suite of products and solutions according to your business needs and resources.
2. EDI Software Training
EDI training is a key component of full-service EDI software providers. On-premise or web-based training leverages the provider's expertise and deep understanding of the EDI solution to ensure user success. As we all know, business structures change, and ongoing training is a way to keep relevant users up-to-date. When your company is knowledgeable about your EDI software solution, sizable and profitable benefits emerge.
3. Knowledgeable Support Team
In conjunction with premium solutions and training, product support is a notable benefit of working with a full-service provider. It is important to have a dedicated support team to help your company use its EDI software correctly and efficiently. Timely product documentation made available by your EDI provider maximizes user engagement and knowledge as well as works to help minimize support inquiries from your team.
Full-service EDI providers offer much more than just EDI software - they offer turnkey EDI solutions capable of leveraging your company's business growth complete with training and support. EDI solution knowledge enhanced by the proper EDI software resources maximizes the growth potential of your company's bottom line.