Mobility is a top technology priority for CIOs in 2012. By 2013, 33% of Business Intelligence functionality will be consumed via handheld devices. There are many reasons to choose SAP for your enterprise mobility needs, but these are the top 10.
1. Market Leader
SAP is #1 in both the mobile device management and mobile enterprise application platform markets.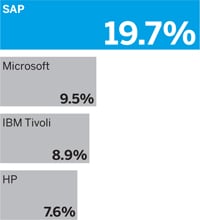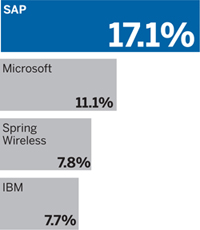 As a combined entity, SAP and Sybase possess a unique position in the enterprise mobility market, with the ability to offer analytics-enabled infrastructure, a leading mobile enterprise applications platform, mobile device management and security, and mobile applications across multiple device types.
2. End to End Solution
You can access SAP applications on any mobile device, be it a smartphone, tablet, or laptop, both online and off.
All your platform needs in one simple solution that allows you to control your devices and applications, create new apps, and connect all of your SAP and 3rd party sources.
3. Support Leading Devices
SAP supports iOS, Android, Blackberry, and Windows devices. You can then use these devices for:
Device Management
Provision for security policies and unique roles
Production management to enforce security, backup data, apply patches
Decommission to lock or "kill" corporate data on corporate- or employee-owned devices
Application Management
Remotely manage all applications on most device types
Install, update and remove enterprise applications
Blacklist or block applications
Speed to Value
Native SAP integration for rapid industry applications
Be up and running in a matter of days
4. Mobile Enable Any Application
The SAP approach to mobile platforms synchronizes and ties mobile applications to backend systems in any scenario. This approach also preserves consistent data on devices and on-premise or on-demand systems.
With this platform, you can develop your app once and deploy it across a broad range of devices. It will natively integrate with SAP solutions and support other business applications with open architecture.
5. Opens Access to Wide Range of Users
The SAP mobile platform supports a state of the art user experience through HTML5, consumer-inspired design, interactive navigation, and intuitive decision making.
Employees: Enable mobile workers, workgoups, and workflow anytime, anywhere
Partners: Magnify the value of your business network
Consumers: Reach millions of consumers and users
6. Unlock Innovation
SAP mobile has 4.5 billion subscribers, allowing you to reach more people with new business models that include:

mCommerce (Couponing, Retailing)

Messaging (Consumer Engagement, Employee Engagement)

mPayment (Transactions, Point of Sale)
7. Deployment Flexibility
SAP gives you the ownership of strategic solutions, the flexibility to customize and integrate, allows you to manage daily operation, and selectively upgrade. It also provides on premise infrastructure and self-managed operations.
SAP On Demand allows you to minimize infrastructure, deploy incrementally, and quickly adopt a standard solution. In addition, private cloud infrastructure is hosted behind your firewall and public cloud infrastructure is hosted by a cloud partner.
8. Enterprise-level Security
The SAP mobile platform is the industry's leading mobile device security and application management technology. It provides:

Device-level security through role-based credentials, secure data access and creation, and central control to wipe data or apps.

Data-level security through an architected seucrity model that provides end-to-end data security from mobile device to back end systems.

Identity management with a single sign-in for access and authorization to enterprise apps and a single click procses for network connection and user session.
9. Rapid Business Value
The SAP mobile platform allows you to:
Rapidly develop, deploy and adopt mobile solutions
Supercharge your development resources
Unlock the value of your ERP investment
Enable new business models and strategies
Unwire your enterprise
10. Industry Focus