Are you thinking about implementing SAP solutions for your small or medium business? 88,000 other businesses like you have done the same and below are the top reasons they have chosen to implement SAP over other ERP solutions.
1. Leadership
SAP is the leading provider of enterprise applications, representing over 23% of the total enterprise applications on the market.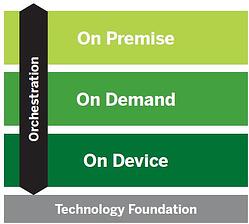 2. Innovation
SAP's integrated solutions ensure consistency across all on-premise, on-demand and on-device applications. Through in-memory, cloud and mobile technologies, SAP builds on existing application platforms to help minimize disruptions for customers.
3. Focus
From manufacturing and wholesale to financial and public services, SAP has the industry experience to help run your company. SAP is able to support the needs of 25 different industries on one, single platform.
4. Analytics
SAP is able to provide real-time business intelligence to SMEs with the lowest total cost of ownership. This is one of the reasons why Gartner has recognized SAP as a leader in all four analytics solutions areas - BI Platforms, Corporate Performance Suites, Data Integration Tools and Data Quality Tools. Over 22% of the BI market is dominated by SAP.
5. Mobility
With 20,000 enterprise mobility customers representing, SAP is the proven market leader in mobile solutions. SAP's mobile solutions include their best selling mobile enterprise platform, device management and SMS and MMS messaging.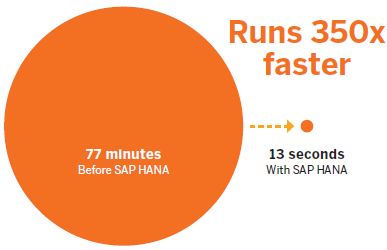 6. Real Time
SAP delivers real-time ERP through the most advanced in-memory technology - SAP HANA (High Performance Analytic Appliance). SAP HANA provides a foundation on which to build a new generation of applications, enabling customers to analyze large quantities of data from virtually any source, in real time. The graphic to the right showcases an actual SAP customer's performance of a core reporting process.
7. Value
SAP provides the best service to measure and maximize business value. Software users are able to benchmark business process by establishing a performance baseline and setting goals. Training is also available for team members to help develop value management capabilities. Furthermore, collaboration opportunities are available with SAP. All of this helps companies run on time and on budget, providing value to their own customers.
8. Cost
SAP helps reduce users' total IT costs so that more funds can be spent on innovation. SAP users enjoy 23% lower implementation service costs per component than the leading ERP competitor, as well as 9.3% lower total software, service and support per user. Learn more about the SAP implementation process.
9. Support
With the best software support services in the industry, SAP and Algorithm provide peace of mind about your organization.
10. Choice
Through their strong partner relationships and open ecosystem, SAP provides the choice and flexibility to find the best fit software.