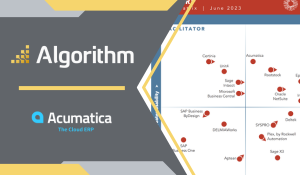 Small to mid-sized businesses (SMBs) are coping with the shifting market by diversifying their business models; manufacturers pivot to distribution and retail, distributors perform light assembly and packaging, and service organizations add subscription or consumption pricing models. Legacy ERPs or lightweight accounting systems lack the functionality and flexibility to support these initiatives; therefore, organizations turn towards ERP modernization. Another factor driving ERP adoption is to enable descriptive and predictive analytics. ERP systems touch many areas of a business where a fast-growing company may not have implemented a software system to manage and collect data.
Acumatica
Acumatica is recognized as a leader in this year's SMB ERP Technology Value Matrix. Acumatica's cloud ERP solution is engineered to be easy to deploy, with a large ecosystem of ISVs to meet the needs of the mid-market. Its ERP platform includes accounting, sales, inventory, warehouse management, project management, customer management, and shopfloor applications, built on an open and secure cloud architecture. This provides users with constant availability, seamless remote collaboration, and enterprise-grade security. Acumatica customers have the freedom to switch between public and private cloud deployments as their business needs evolve. The vendor's licensing policy further drives flexibility and scalability by providing users with an unlimited, consumption-based license, free of user-constraints. Acumatica has a single code base which can be delivered in specialized Industry Editions that cater to the Manufacturing, Distribution, Construction, and Retail sectors, offering bespoke features to address challenges specific to the respective vertical. These versions incorporate compliance requirements, sector-specific features, and cross-module workflows, providing an uninterrupted operational experience.
Acumatica delivered major product updates through its biannual releases; 2022 R2 and 2023 R1.
▪ Acumatica delivered usability enhancements, including wiki-based info tips, mobile signature capture, mobile workspace configuration enhancements predefined dashboards and side panels for CRM, manufacturing, and distribution. Notifications now include the prior document owner, and the delegation and reassignment of approvals have been streamlined.
▪ Technological advancements include contract-based API enhancements, including payroll distribution and mobile signature capture, commerce connector and more. Acumatica also enhanced business event-triggered actions, site preference-based logout timeout, and OData support for translated fields boost efficiency and convenience.
▪ Financial management features have also received improvements. Approval processes for journal entries have been fine-tuned, alongside enhancements to dunning letters and personalization. Additional enhancements include syncing fixed assets and GL periods, auto-assigning tax zones based on addresses, improved ACH configuration, and simplified batch payment processing
▪ In payroll management, employees can access paystubs on their mobile devices. Opportunity pipeline reporting, Canadian payroll processing, and task management have also been improved.
▪ Distribution and Retail-Commerce updates include advanced inventory cost layers, stock to non-stock inventory conversion, and bidirectional order syncing with Shopify. Enhancements such as counter sale order entry for purchase and return, predefined user roles, and limited variant matrix items improve operational efficiency. Inventory availability in Amazon FBM and Shopify hierarchy for B2B customers has also been enhanced.
▪ Manufacturing capabilities delivered include an engineering workbench, MRP with transfer demand, and time entry across production orders. New features delivered include over-completion quantity verification on operations, multiple base currency support, and pre-configured side panels on profile forms to further enhance visibility.
▪ In the Construction, Project, and Field Service domains, Acumatica released unit based project progress tracking, mobile-enabled drawing logs and submittals, and change order workflow enhancements to improve project management capabilities. The vendor also released features like skill inclusion in appointment scheduling optimization, construction reporting improvements, joint check processing enhancements, and lien waiver workflow improvements as well as mobile annotations, drawing logs, submittals, and progress worksheets.
Epicor
In this year's SMB ERP Technology Value Matrix, Epicor has been positioned as a leader. Its primary customer base lies within the mid-market, spanning sectors such as automotive, distribution, construction supplies, manufacturing, and retail. The Epicor Industry ERP Cloud platform unifies diverse capabilities like finance, supply chain management, planning, CRM, product management, project management, business intelligence, and analytics into a single integrated system. Epicor presents a varied portfolio of industry-specific ERP systems, including Epicor Kinetic for discrete manufacturing, Epicor Prophet 21 for distribution capabilities, and Epicor Propello for retail management. With its flexible infrastructure, incorporating no/low-code customization options, ready-made API connectors, and an extensive selection of add-on modules, Epicor enables businesses to configure their ERP system to fit unique business requirements.
Recent product updates and enhancements include:
▪ Epicor released Kinetic 2022.2 and 2023.1, offering enhanced traceability, improved financial controls, and visualization across manufacturing solutions.
▪ Automation Studio was embedded within Kinetic and Prophet 21 in July 2022, enabling automated workflows and seamless data integration across various applications. Automation Studio provides access to over 1,000 connectors to many popular Cloud applications like Salesforce, HubSpot, ADP, Shopify, and Slack
▪ Epicor made strategic acquisitions, including Grow, a business analytics and reporting solution integrated with Epicor Kinetic and Prophet 21 in 2023.
▪ Epicor acquired Evron to integrate field service management capabilities into both Kinetic and Prophet 21 in February 2023.
▪ Epicor acquired DSPanel in March 2023, the developer of Epicor Financial Planner (EFP), which was rebranded as Epicor Financial Planning & Analysis (FP&A) in May 2023. ▪ Epicor acquired EFlex in October 2022, a cloud-based Manufacturing Execution System (MES) technology, now rebranded as Epicor Connected Process Control.
▪ Epicor invested in continued compliance with global and regional policies, including SOC 1 and 2, GDPR, CCPA, Cybersecurity Maturity Model Certification (CMMC), International Traffic in Arms Regulations (ITAR), and other regional requirements.

Download & View Full Report 2023
Download & View Full Report 2022