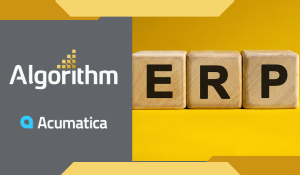 ERP Comparisons for 2021
Despite the disruption shaped by last year's pandemic, Nucleus Research reports an increased demand for ERP solutions across all industries, especially among midmarket companies. With workforces transitioning to work-from-home and hybrid set-ups, the troubles of on-premises solutions, disjointed systems, or manual processes now outweigh the costs of an ERP cloud migration for many businesses. The full report breaks down ERPs into the categories of Leaders, Experts, Facilitators, Core Providers and updates you on their milestones and improvements over the last year and includes both Acumatica and Epicor:
ACUMATICA
Acumatica is recognized as a Facilitator in the 2021 ERP Technology Value Matrix for its continued innovations to its midmarket solution offerings. The vendor has established a significant presence in the ERP market through its integrated financial management applications that address distribution, project accounting, and CRM. Acumatica follows the industry trend of a developer-centric approach, empowering users with customization capabilities, both during and after deployment. This platform flexibility is underpinned by robust OpenAPI library and configuration tools that, when combined with low-code configuration, allows for quick integration of multiple cloud systems for a connected solutions environment. While Acumatica is only sold through partner channels, primarily within commerce, construction, distribution, field service, and manufacturing verticals, its ERP products are often considered alongside those from Oracle and Sage. Customers often select Acumatica for its usability factor. Benefits such as a complete web-based interface, customizable dashboards, and real-time data sharing across the company promote collaboration, operational efficiency, and a unified effort towards business growth.
Acumatica's recent product updates include enhanced account reconciliation, additional AI/ML applications, and improved KPI tracking. Ideally, companies would have a streamlined monetary collection process that would better focus on their core competencies. However, significant time and personnel are often allocated to remedying cash balance inconsistencies between corporate balance sheets and bank statements. Improvements to the Acumatica Bank Integration solution eliminate importing and processing discrepancies by connecting over 11,000 financial institutions into the Acumatica platform for automated transaction downloading, allowing consumers to reconcile troubled bank accounts swiftly. Updates to the Reconciliation Statement Report tool grant users access to the list of total unreconciled disbursements and reconciled disbursements, leading consumers to identify patterns in deficient accounts, reduce the time for consolidation processes, and improve close reporting quality. Improvements in functionality have been matched with Acumatica's intent on providing convenience for its customers through AI/ML updates such as enhanced mobile image and form recognition. New at-a-glance KPIs and Document Number: V93 June 2021 NucleusResearch.com 17 KPI personalization capabilities enable prompt decision-making and provide users with visibility and control over daily operations. Nucleus expects Acumatica to improve its position in future editions of the Value Matrix as potential customers prioritize usability in their digital transformation initiatives and innovations to core financial and industry-specific modules boost functionality.