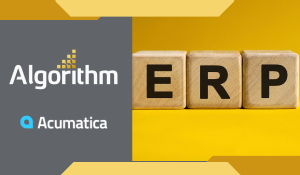 ERP Comparisons for 2020

This new report from Nucleus Research briefs you on today's top vendors by dollar value—and names Acumatica and Epicor as leaders amongst all the options available for all industries.

The full report provides detailed profiles of 23 ERP vendors to enhance your research. Algorithm support ERPs that are best for manufacturing. Two top ERPs for this industry are detailed in the report:

ACUMATICA
Acumatica is a Leader in the 2020 ERP Technology Value Matrix, as it continues to expand its rapidly growing presence in the midmarket ERP space. The vendor is cloud-native and delivers its solutions, both general and industry-specific, via a SaaS business model. Acumatica's portfolio of supported industries includes commerce, construction, distribution, field service and manufacturing. Acumatica is unique among ERP vendors in that it only sells its solution through partners. As a result, there is no competition among vendor and partner sales teams for similar customers, allowing Acumatica to focus on product development and customer support.
Customers note that the solution's usability is a differentiator during initial evaluation and implementation, but the software can then scale to handle complex and high-volume data processing as well. New users can be onboarded quickly and collaborate efficiently across departments and geographies. Acumatica's flexibility enables users to configure their implementation to match existing best practice, while promoting the move away from siloed
data and processes. The vendor has made significant investments in bringing Industry 4.0 functionalities to both its General Business and Industry Editions, demonstrating its commitment to providing long-term value for customers.
Since the 2019 Value Matrix, Acumatica has maintained a regular product update pattern, with major releases arriving twice per year. In September 2019, the vendor launched the 2019 R2 release for the Acumatica platform which brought usability enhancements for the mobile application, deeper granular control for all the industry editions, and a new integration with Google's G suite. The 2020 R1 release, announced in January 2020, introduced new ML-enhanced capabilities for expense management, simplified reporting for all editions, and the all-new Acumatica Payroll module. In June 2019, Acumatica was acquired by EQT Partners in a move that strategically linked it to another ERP vendor, IFS.
There are no plans to merge either the companies or the products, but Acumatica and IFS will share market intelligence and best practices to better prepare for future ERP developments. Nucleus expects Acumatica to continue building upon its recent successes and improving its position in future editions of the Value Matrix.
EPICOR
Epicor is an Expert in the 2020 Value Matrix. The vendor provides broad coverage for ERP functionalities including financial and supply chain management, planning and scheduling, eCommerce and Point of Sale, production and service management, payment processing, and business intelligence and analytics. Epicor has begun to experience success with transitioning its existing customer base to Microsoft Azure-supported cloud implementations in specialized verticals such as manufacturing, retail, distribution, and building materials. The company has made significant investments into its user experience Epicor Kinetic and to introducing industry 4.0 capabilities like IoT and AI to its cloud deployments.
Epicor's aggressive expansion and development tactics have yielded many results since the 2019 Value Matrix. In June 2019, Epicor acquired MechanicNet Group Inc., a CRM and retention solution for motor vehicle service businesses, followed by the acquisition of warehouse management solution provider Majure Data in July 2019. In October 2019, the vendor launched major updates to both its ERP and DocStar enterprise content management solutions. Highlights included expanded features for Epicor Collaborate and Epicor Functions, new skills for the Epicor Virtual Agent (EVA) and automated tasks in DocStar ECM Forms 2.0. In November 2019, Epicor launched LumberTrack 2020 with new features including AP Automation, connectors for Voyage Management, and an updated user experience. Finally, in April 2020, Epicor released the Epicor Commerce Connect Express (ECC Express) portal to help customers rapidly improve productivity and eCommerce experience management.
Epicor's focus on delivering specialized value to industries with complex ERP requirements will appeal to customers looking to move away from generalist software. Sustaining momentum for both functionality development and cloud transitions over the next year will be crucial to remaining competitive with the rest of the market. Nucleus expects Epicor to preserve its position on the Value Matrix as it expands its service offering to accommodate a larger customer base.

DOWNLOAD & VIEW FULL REPORT