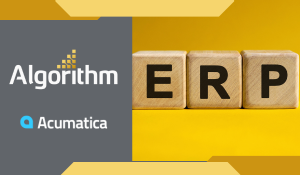 7 Ways Distributors Grow with Acumatica

OPTIMIZE INVENTORY, REDUCE COSTS, AND AUTOMATE YOUR SUPPLY CHAIN:
Distribution has changed dramatically. It is easy for manufacturers to sell direct, and the Internet enables customers to source from low-cost, global competitors. Distribution businesses must be agile and built on modern technologies to effectively manage their supply chains and customer relationships.


You and your customers demand omnichannel options to purchase, return, and exchange products anywhere—in-store, online, or through in-house sales departments. Online self-service and value-added services offer distributors opportunities to differentiate from competitors while increasing their bottom lines. Take a look at the following 7 ways to grow distribution with a future-proof ERP system:

INCREASE SALES: Generate Leads and Sell More with Embedded CRM, Connected Commerce, Point of Sale, and Field Service

You may be operating on razor-thin margins, and competition is fiercer today than it has ever been in the past. Distributors must capitalize on every business opportunity and explore new ways to increase revenue from existing customers. (Marketing & Sales Force Automation, Connected Commerce Storefronts, Native Point of Sale Application and Applications for Service & Support)

OPTIMIZE INVENTORY: Manage Supply Chains Effectively with Replenishment to Increase Turns and Minimize Carrying

Costs Effective inventory management is paramount for you or every distributor out there. Carry too much inventory, and you experience product obsolescence and increase carrying costs. Carry too little inventory, and you face stock-outs, lost sales, and stagnated growth. The solution is flexible tools to manage inventory replenishment to optimize stocking levels for maximum return on investment. (Optimize Inventory with Replenishment, Minimize Perishable Inventory Issues, Monitor Supply & Demand in Real-Time and Streamline Item Management)

STREAMLINE WAREHOUSE OPERATIONS: Automate Transactions with Barcoding, Wave and Batch Picking, and Advanced

Inventory and WMS Features Best-in-class distributors understand how to turn inventory and fulfill orders fast. Efficient warehouse operations are built on technology for barcoded transactions and flexible order fulfillment strategies. Automate the pick, pack, and ship process while reducing errors, improving data accuracy, and eliminating manual data entry. (Embedded WMS with Barcoding, Flexible Order Fulfillment and Extended Warehouse Applications)

EXCEED CUSTOMER EXPECTATIONS: Improve Customer Service and Satisfaction with Faster and More Accurate Orders with Online Self-Service

Studies by Bain & Company and Earl Sasser of the Harvard Business School show that a modest five percent increase in customer retention can lead to a 25% to 95% increase in profits. With so much supply chain disruption, and the growth in internet commerce, distribution customers have more options than ever before. It is not enough to meet customer needs. (Accurate Real-time Information, Competitive & Flexible Pricing, World-class Customer Service and Digitally Transformed Order Processes)

IMPROVE DATA VISIBILITY: Open APIs Connect Data in Real-Time with Powerful Dashboards and Analytics

Online orders from disconnected storefronts create delays in information as orders are imported manually into the back-office system for processing and order fulfillment. One-off integrations tax IT departments with unnecessary infrastructure costs and labor for application maintenance and support. Look to manage every part of their business from a single platform with low-code and no-code integration tools to consolidate real-time data from external systems. (Comprehensive Distribution ERP, Easily Connect External Data Sources, Configurable Role-based Dashboards and Powerful Reporting & Analytics)

AUTOMATE BUSINESS: Harness the Power of Artificial Intelligence and Machine Learning with Visual Process Workflows

Technology is a strategic investment and technology enables you to create, process, and fulfill orders faster using templates, customer order history, matrix items, connected storefronts, and automated barcoded transactions. Modern technologies, including artificial intelligence with machine learning, provide additional benefits to improve distribution processes. (Automate with Artificial Intelligence and Configurable Business Process Workflows)

REDUCE IT COSTS: Minimize License Fees and Infrastructure Costs with a Comprehensive Distribution Cloud ERP Application

Despite the availability of dozens of distribution ERP applications, few distributors find everything they need in a single application. Third-party application license fees and related training, maintenance, and support costs are significant. Further, legacy distribution ERP platforms are built on aging technology requiring substantial investments in the underlying infrastructure supporting the application. Look for a solution that reduces third-party application dependence with a comprehensive suite of connected business applications. (Reduce Application License Fees, Lower Costs for Training & Support, Minimize Infrastructure Costs and Eliminate User License)

DOWNLOAD AND READ FULL EBOOK