Acumatica
CLOUD ERP SOFTWARE
Unlock Your Business Potential with Acumatica
Acumatica is a leading provider of cloud business management software that empowers small and mid-size businesses to unlock their potential and drive growth.
Built on the world's best cloud and mobile technology and a unique customer-centric licensing model, Acumatica delivers a suite of fully integrated business management applications such as Financials, Distribution, CRM and Project Accounting, powered by a robust and flexible platform.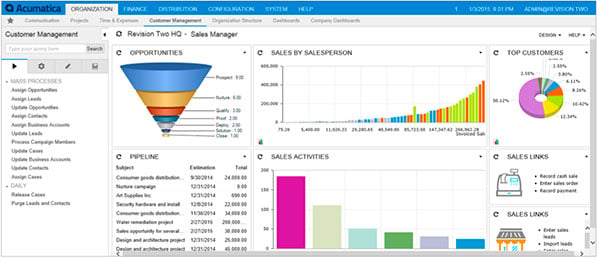 OUR CLOUD ERP PRODUCT IS LIKE NO OTHER
TAKE CONTROL OF YOUR BUSINESS
Successful companies know the value of having visibility and control over their business. Acumatica enables you to drive growth, manage costs, and be productive.
PLAY TO YOUR STRENGTHS
Every business is unique. Play to your strengths by doing what works best for your company. Tailor your business management so ware to fit your exact needs, no matter how specific your requirements.
EMPOWER YOUR PEOPLE
Your business isn't confined to four walls. Why should the people who impact your business be? Acumatica goes wherever your people go.
To learn more about the Acumatica solutions we offer, click on the links below.