Mimi Bertram
Vice President
As Vice President at Algorithm, Mimi is responsible for all of Algorithm's service delivery, including application consulting, technical support desk, and custom programming. The Algorithm team excels at delivering services that are aligned with customers' needs and expressed expectations. Mimi's job is to ensure that Algorithm not only exceeds customers' expectations, but to also identify what they are in the first place.
Mimi has been a member of the ERP community for almost 20 years. After beginning her career as a Material Planner for a Cincinnati foundry and metal fabrication shop, she joined the Treadstone Group as an Application Consultant assisting customers with the successful implementation and long-term use of their ERP products. After a brief stint in sales, Mimi happily joined Algorithm in 2001 to spearhead their customer-care initiatives. With a laser focus on the needs of the customer, Algorithm has garnered a well-deserved reputation as a company who can "get it done"! Mimi graduated from the University of Cincinnati and Xavier University with degrees in Classical Languages and in Bronze Age Archaeology.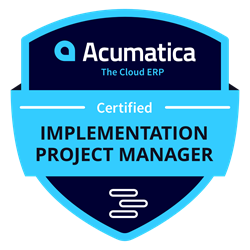 Mimi's go-to shot in a game of Horse is a backwards over-the-head shot from the top of the key. She sinks the shot maybe half the time, but on the other hand, no one else EVER does.
Q: Describe your experience at Algorithm. When and why did you become involved?
A: I've been with Algorithm since 2001. Prior to joining Algorithm, I worked in manufacturing, and then as an application consultant for another reseller. I was impressed with the depth of knowledge and the technical acuity of the entire Algorithm team. Although I initially started at Algorithm with the Sales Team, I quickly became engaged in developing an effective and sustainable client care initiative. Today, our client care practices and our client retention rates are hallmarks of our company.
Q: What do you find most exciting in your career?
A: I'm very interested in the effects of technology on traditional business practices, and particularly so for those technologies brought into business as a result of the consumer experience. I'm amazed at how rapidly it can evolve even the most established processes.
Q: How do you maintain a work/life balance?
A: By allowing the lines to blur within reason. I don't think it's possible to manage a business in the current technology environment and not anticipate some level of 24/7 accessibility. "Leaving work at the office" isn't an option today when most of us carry the office with us.
But it's that same technology that allows me the freedom to be more available for family and more flexible with my personal time on a 24/7 basis as well. Frankly, I've also been fortunate to work at Algorithm, which has always been an extremely family-friendly workplace. We have our office dog and employees' children are always welcome.
Q: What is your favorite aspect of living in Columbus?
A: Definitely the food scene. I was surprised by the number of really wonderful and unique restaurants in and around Columbus. And coming from the Cincinnati area, I had easy access to the amazing Jungle Jim's Market (if you don't know it, you should get acquainted) and Findlay Market, so finding the North Market here in Columbus was a real score.
Q: Do you have any advice for others looking into this career field?
A: I would advise a focus on business acumen before technology. Algorithm is first and foremost a business consulting practice, so it's paramount that we're conversant with the challenges and critical needs of our clients' businesses. With a well-rounded understanding of accounting, distribution, manufacturing and the related processes, you'll bring more value and be more in demand than if you focus solely on technology.
Q: What would you like Algorithm to accomplish in the next year?
A: Fortune 500 Company of the Year. Barring that, there are two exciting product initiatives that will be wrapped up and in general release:
TierLink v3, which is our automotive EDI solution for Tier 1 & Tier 2 automotive suppliers;
Hubspot Integration Tool
We've experienced a tremendous increase in our service and product sales activities and I'm anticipating expanding the consulting and support teams by at least 20% by Q3 to support that growth.