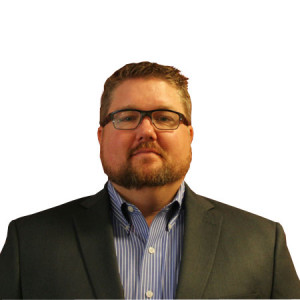 As a Senior Application Consultant at Algorithm Jonathan Nelson spends the majority of his time working directly with Algorithm's customers to help them improve their businesses through the better implementation and use of their software applications.
Jonathan spends a lot of time getting to know and understand what makes Algorithm's customers successful and assist them in expanding that success. His responsibilities include direct support of Wisys, ERP, on-site assessments, upgrades, new site implementations and overall project management.
Jonathan began his career while still in college at the University of Cincinnati by going to work for a Cincinnati-based reseller. He has since worked for 2 large end-users, participated in a conversion to SAP and spent some time as a Channel Marketing Manager for Bosch prior to accepting a position at Algorithm, Inc.
He has been able to develop a broad base of experience working for privately held small businesses as well as large fortune 500 companies both internally and as a consultant. Jonathan graduated from the University of Cincinnati in 1999 with a degree in Business Operations Management.
Jonathan has 4 children and most of his free time is spent supporting them in their various activities. He loves to read and consume as many good books as he can. He really likes to have the answers so anytime he comes across a question he doesn't have an answer to, he goes and figures it out.
Please describe your experience at Algorithm. When and why did you become involved?
I joined algorithm in 2012. I worked for multiple ERP end users and as a consultant in the past and wanted to get back to my roots.
I knew Mike Oswalt and Algorithm through various interactions over the years and was excited to see them looking to add consultants. I envision myself retiring from Algorithm many years from now.
What would you like Algorithm to accomplish in the next year?
Continued growth and on-time, on-budget delivery of all of our projects. Mike has assembled a dynamic team and we are intent on being the best in the industry.
Do you have any advice for others looking into this career field?
This is an extremely self-driven field. You have to be able to organize and manage your time very well and handle multiple priorities.
It is not a 9-5 career, but it is very rewarding! Be prepared to solve problems and think dynamically.
What is the best-kept secret of your community?
The consulting field is not just about what you know but how you build relationships. You spend a significant amount of time with your customers working on projects and becoming their trusted advisors is a key to our success. It is a methodology that is taught and encouraged at Algorithm.
Being an avid reader - what are your 3 favorite books of all time?
I like to read and have since I was around 10. It is difficult for me to pin down my top 3 books because there are so many options to pick from and I read multiple genres but here it goes:
I am a Tom Clancy fan and have read every book written by him and the co-written books that have spun off the Jack Ryan character. My favorite book of the series is "Without Remorse" as it is the only that I have read more than once. It tells the origin story of John Kelly, a black ops CIA operative, who plays a key role throughout the series
The second book is going to be a series called the "Wheel of Time" by Robert Jordan and Brandon Sanderson. It took 20 years for them to write and me to read all 14 books in the series. It is an epic fantasy story with multiple main characters and a lot going on. The story is captivating and I recommend it to anyone looking to distract themselves from life for a couple of months - the average length is about 700 pages per book
The third book is the hardest to narrow down. I am going to go with a character rather than a book. The character is Jack Reacher and the author is Lee Child. The twentieth book will be coming out in October, "Make Me", and I am on the waiting list for it through the library. Lee Child has created an character that has a very distinct sense of right and wrong which leads him into situations that most people would avoid. These books are the kind that keep you up until

3 am

because you just have to read one more chapter to see what happens
If you could change your first name, what would you change it to?
Augustus! I think it sounds distinguished. I was sitting at my desk trying to figure out what name sounded interesting and dashing and I went with distinguished.
I also like the uniqueness of the name. You don't come across too many Augustus. Plus, Auggie is a cool nick name as well.
What is your favorite Algorithm memory to date?
There are many to choose from, but I will go with our tequila lunches. I believe we started doing it at my birthday lunch in 2013 at Tucci's.
I am not sure what the impetus was, but Mike went with it and we have made it a tradition to have a shot of tequila for every birthday and celebration ever since.