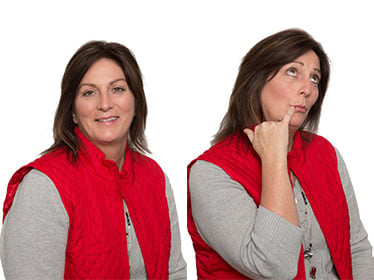 As a Customer Care professional, Beth Harris cares about her team and customers, but she also knows how to unwind and have a great time.
Background
Beth has been with Algorithm for since February of 1998. Before coming to Algorithm, she worked for 10 years in administrative, sales and international ERP teams. As you can imagine, Beth brings a lot of knowledge and care to Algorithm's customers.
Fun Facts
When she isn't in the office, Beth enjoys being with her family, riding her motorcycle and helping animals.
Q&A
Describe your experience at Algorithm. When and why did you become involved?
I knew the team at Algorithm was exceptional and started with them in 1998. My experience has been long and wonderful!
What do you find most exciting in your career?
I really enjoy our customers. We work with so many great people, it's fun to talk to them and help them.
What is your favorite aspect of living in Columbus?
Although my commute from Delaware to Dublin is usually uneventful, except that one time when some horses got out and were trotting down a back-road, I guess the prospect of moving to a warmer climate has great appeal. That is, if the aspect of living in one city is the prospect of moving to another?
How do you connect with the Columbus community? Are you part of any organizations?
I actually live in a small town outside of Marion which is 50 miles from our office so I don't spend a lot of time in Columbus. When we do make the trip socially we enjoy many different areas.
What is one guilty pleasure that you can't live without?
Which one? I love a bit of something sweet after a nice meal and I love my motorcycle.
What is your favorite ice cream flavor/place?
If you had to change your first name, what would you change it to and why?
My name is Beth, not Elizabeth. I would change it to Elizabeth for two personal, family reasons.
Your bio mentions that you love helping animals. Tell us a little more about how you help and how others can get involved too.
I believe in rescue. I promote that along with shelters all over. I also donate money and supplies when I can. There is nothing wrong with having a rescue animal. They are just as smart and loveable as one you pay a lot of money for.
---
Additional Pet Adoption/Shelter Resources:
The Shelter Project - The Shelter Pet Project is the result of a collaborative effort between two leading animal welfare groups, The Humane Society of the United States and Maddie's Fund, and the leading producer of public service advertising (PSA) campaigns, The Ad Council. Our goal is to make shelters the first place potential adopters turn when looking to get a new pet, ensuring that all healthy and treatable pets find loving homes.
Adopt-a-Pet.com - Adopt-a-Pet.com (formerly 1-800-Save-A-Pet.com) is North America's largest non-profit pet adoption website. We help over 13,600 animal shelters, humane societies, SPCAs, pet rescue groups, and pet adoption agencies advertise their homeless pets to millions of adopters a month, for free. We're all about getting homeless pets into homes.
Pets without Parents - Pets Without Parents, founded in June of 2001, is a non-profit, no-kill, all-breed shelter for dogs and cats. Our mission is to place every pet that enters our shelter into a loving, permanent home; to motivate our local community to support our shelter, its no-kill mission, and spay-neuter efforts through donation, volunteer, and adoption opportunities...until every pet goes home.