In past versions of Macola, the Standard Cost module allowed the user the select locations for costing, but all of the selected locations shared the same cost master.
For companies with multiple locations and different cost structures, this meant that either all material costs for the selected locations were averaged together or the user was forced the run the standard cost processes for each unique location.
Related: Macola 10.4 and Macola ES 9.6.700 Product Update Webinar

The Standard Cost module has been changed to allow a unique cost master by location. If you have been using Standard Costing and want to use the multiple locations feature, you will have cost master records with a blank location. These are not removed and will not be used in further processing.
How to do it
To begin using multiple locations in Standard Costing, follow these steps:
Open the Standard Costing Setup screen, and select the Multiple Location Flag check box. Click the Save button, and close the Standard Costing Setup screen. This enables the location (Loc) field on Standard Costing screens.

Create the cost master records for each location. To do this, run the Create Cost Master process (System > Utilities > Manufacturing Planning > Standard Costing > Create Cost Master) for each location.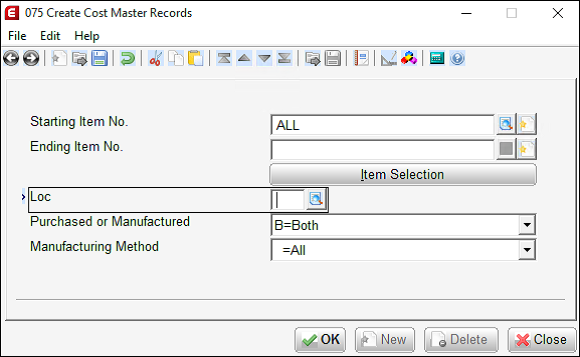 Complete the typical standard costing processes for each cost master/location combination:
Roll to Material
Recalculate VA Costs from Routings or POP (or both)
Cost Build-up
Roll Select Cost Master
Additionally, a bug with the Item Selection in Multi Process Select has been corrected with this release.
We hope that the new updates help make your costing for multiple locations a little bit easier and a lot more accurate in the future!
Exact References:
Document: 27.163.749 - Exact Macola Enterprise Suite Release Notes: Macola ES version ES9.6.700
Document: 27.176.964 - Exact Macola 10.4 Release Notes