A recent post on the SAP blog reviewed technology trends to watch for in 2013. In the post, SAP asks IT analysts for their opinions on the future of IT and to make predictions on which trends will have genuine consequences in 2013. Below we highlight the top trends and share what the experts predict.
The Experts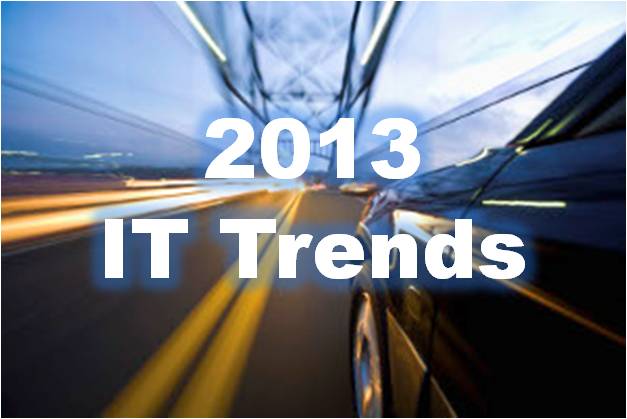 Carolina Milanesi, Gartner
Research Vice President
Andreas Zilch, Experton Group
Management Board Member
Mario Zillmann, Lünendonk
Senior Consultant
Peter Lempp, Capgemini Germany
COO
Ruediger Spies, IDC
Independent Vice President Enterprise Applications
Frank Mang, Accenture
Head of SAP business
1. Cloud computing
Zilch: Cloud computing is currently undergoing a difficult period and the technology needs to make the leap from media hype to maturity.
Zillmann: Cloud computing is a topic that practically all IT providers are driving. It is no longer a trend, but already forms the basis for specific business models.
Lempp: The cloud has shifted from theory to practice, especially the private cloud. Cloud services are particularly suited to making changes fast and selectively. However, they don't necessarily replace integrated IT landscapes. The challenge remains not to create new data silos.
Spies: Cloud computing will mean quite a lot of work for CIOs this year. Cloud computing, notably the use of public cloud components, remains a combination of organizational, legal, and technological tasks. Decision makers need to get the mix right.
2. Mobile IT and "bring your own device" (BYOD)
Milanesi: Employees are determining what the provider market and the company IT environment look like today. An increasing number of people also use their private handhelds at work. In view of this, many analysts now refer to BYOD almost automatically when the subject of mobile IT is raised.
Lempp: Above all, the future is mobile, even if companies are still struggling with extensive hardware procurement and a BYOD approach. Consumer IT will advance relentlessly into the business world.
Spies: All major BYOD providers are investing in their marketing activities. It is a hot topic for employees, and IT needs to solve its part of the issue. Security tends to be unpopular, but is inevitably necessary.
Zilch: Current mobile trends mean that the topic of security is becoming ever more complex and, as a result, also more critical.
3. Big Data, business intelligence (BI), and analytics
Lempp: Master data management and data quality management are topics that we categorize under the term business information management. IT decision makers will continue to focus on the systematic approach of the application life cycle in IT as well as on aligning business and IT.
Zillmann: Business Intelligence is highly relevant, both strategically (regarding the benefits of the data for company development) and technologically (data retention, merging, and analysis). Automotive companies can already incorporate consumer wishes expressed on the Internet into vehicle development and integrate them into the development process. With Big Data and analytics, the winners will be all types of IT companies, including management consultancies, who address the issues of business alignment and new business models and lines.
Zilch: Above all, collaboration software will revolutionize the path to the social enterprise, both in the business-to-business and the business-to-consumer sector.
4. Outsourcing
Zilch: The lack of talent is underestimated. There aren't enough employees who can filter out meaningful findings from a mass of diverse data. In-house training and qualification are a solution, particularly if internal IT organizations widen their horizons and gain more technical expertise. Outsourcing can only be a stop-gap measure.
Zillmann: Many decision makers will resort to outsourcing in 2013. Many companies' IT departments come up against their limits and there is a growing need for external support.
5. In-memory computing
Mang: Companies who are not yet looking into in-memory computing should start doing so in 2013. In-memory technology replaces conventional data storage, which - being row-based and organized in silos - relies on structured data. In-memory therefore acts as an enabler for cloud computing, big data analytics, and mobile applications. The tremendous performance and the new way in which data is organized make it possible for analytics to be applied directly to the operational data.