On July 16 at an event in San Francisco, Steve Ballmer (CEO of Microsoft) introduced Microsoft Office 2013. An exciting set of capabilities for the cubicle-bound masses I'm sure; however, being a server-guy, I was really looking forward to hearing about the interoperability of Office with the new Exchange Server 2013.
Let's just say that I was not disappointed. Having played with Microsoft Exchange Server 2013 for the last few months, I've found it to be a speedy (yes really...speedy) with an intuitive management interface. OK, intuitive may be a little strong here as we are talking about Microsoft but the interface was MUCH better than Exchange Servers of old. Below are the greatest features from Microsoft's own blog.
What's New in Exchange 2013 Preview
Here are some of the great benefits you get with the next release of Exchange:
1. Reduced costs by optimizing for next generation of hardware
Exchange is now optimized for 8TB disks, by reducing database IOPS by +50% and optimizing for multiple databases per volume to increase aggregate disk utilization while maintaining reasonable database sizes. Ever growing memory capacity is used to improve search query performance and reduce IOPS. All this allows you and your end users to have larger mailboxes at lower costs.
2. Significantly reduced operational overhead for high availability
DAG management is simplified via automatic DAG network configuration, enhancements to DAG management cmdlets, support for multiple databases per disk, and enhancements to lagged copies. Auto-recovery capabilities – inherently built into DAGs – are now extended to the rest of Exchange and all protocols. Client-initiated, automatic recovery allows you to reduce recovery time for site failures from hours to under a minute.
3. Decrease the amount of time spent managing your network system while maintaining control
Exchange now provides a single, easy-to-use, Web-based administration interface – the Exchange Administration Center (EAC). Role based access control (RBAC) empowers your helpdesk and specialist users to perform specific tasks which are surfaced appropriately in the EAC – without requiring full administrative permissions. This streamlined and intuitive experience helps you manage Exchange efficiently, delegate tasks, and focus on driving your business forward.
Figure 1: The Exchange Administration Center (EAC) in the next release of Exchange
4. Automatically protect Exchange availability from surges in traffic
Exchange now offers easy to administer controls to protect against unexpected surges in traffic. System work that is not interactive is automatically deferred to non-peak hours in order to preserve the end user experience and higher priority tasks. This improved overall network system through-put leads to reduced costs by saving you from planning capacity for those infrequent, unexpected peaks.
5. Cloud on your terms
Exchange provides you tools to move to the cloud on your terms – whether that's onboarding to the cloud overnight or easily managing a hybrid deployment with mailboxes on-premises and online to meet your business needs. Provide your end users with a seamless experience including sharing calendars and scheduling meetings between on-premises and online users and have minimal user disruption when user mailboxes are smoothly moved across environments. Remain in control in the cloud by testing out upcoming enhancements via previews.
6. Automatically protect your email from malware
Exchange now offers built in basic anti-malware protection. Administrators can configure and manage their protection settings right from within the Exchange Administration Center. Integrated reporting provides visibility into emerging trends. This capability can be turned off, replaced, or paired with premium services such as Exchange Online Protection for layered protection.
7. Protect your sensitive data and inform users of internal compliance policies with Data Loss Prevention (DLP) capabilities
Keep your organization safe from users accidentally sharing sensitive information with unauthorized people. The new Exchange DLP features identify, monitor, and protect sensitive data through deep content analysis. Exchange offers built-in DLP policies based on regulatory standards such as PII and PCI, and is extensible to support other policies important to your business. New Policy Tips in the new release of Outlook inform users about policy violations as content is being created and about how information should be handled according to organizational standards.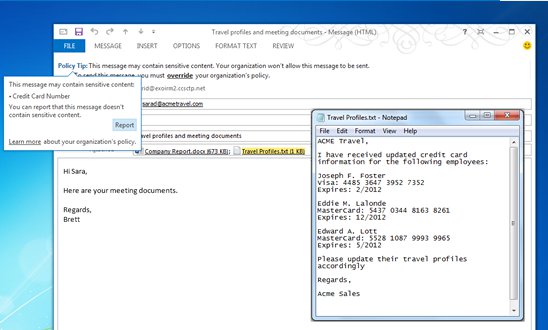 Figure 2: Protect your sensitive data with Data Loss Prevention (DLP) capabilities
8. Allow compliance officers to run In-Place eDiscovery across Exchange, SharePoint, and Lync – from a single interface
The ability to immutably preserve and discover data across your entire organization is essential to ensuring internal and regulatory compliance. Allow your compliance officers to autonomously use the new eDiscovery Center to identify, hold, and analyze your organization's data from Exchange, SharePoint, and Lync. And, the data always remains in-place, so you never have to manage a separate store. With the eDiscovery Center, you can reduce the cost of managing complex compliance needs, while ensuring you are prepared for the unexpected.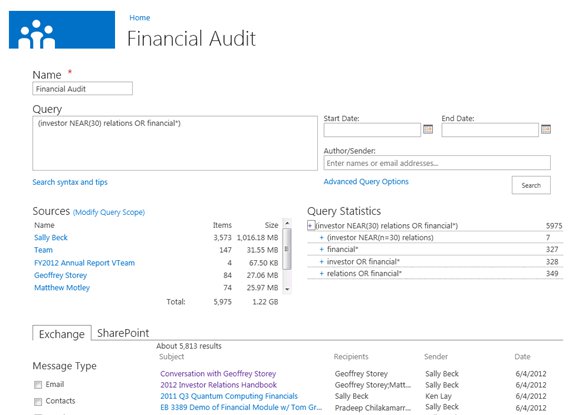 Figure 3: Run In-Place eDiscovery across Exchange, SharePoint and Lync from a single interface
9. Allow users to naturally work together – while compliance is applied behind the scenes
Site Mailboxes bring Exchange emails and SharePoint documents together. Like a filing cabinet, they provide a place to file project emails and documents and can only be seen by project members. Document storage, co-authoring, and versioning is provided by SharePoint while messaging is handled by Exchange – with a complete user experience within the new release of Outlook. Compliance policies are applied at the site mailbox level and are transparent to the users – thus preserving their productivity.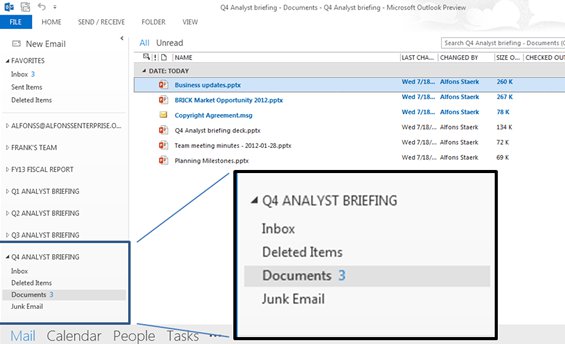 Figure 4: Site Mailboxes bring Exchange emails and SharePoint documents together
10. Modern public folders provide a great way of managing and storing shared conversations and discussions
Public folders are now available in Exchange Online. Both on-premise as well as online, public folders provide the same capabilities customers are already familiar with. And more – they now share the same storage, indexing, and HA capabilities of regular mailboxes and public folder content can now be found via end-user search.
11. Give your users an intuitive, gorgeous, touch-optimized experience on all screens
Your end users will get more done from anywhere with a clean and uncluttered experience. Users can now take advantage of the fresh, easy, and intuitive Windows 8 style experience across Outlook and OWA. OWA user experience scales beautifully for any form factor and size – PC or slate or phone – and has a modern user experience voice with great support for touch and motion. OWA now offers three different UI layouts optimized for desktop, slate, and phone browsers.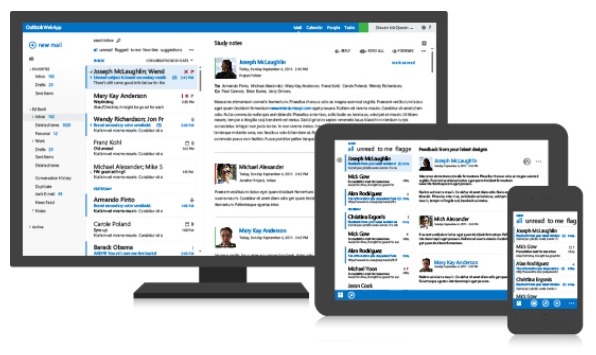 Figure 5: An intuitive, gorgeous, touch-optimized experience on all screens
12. Offline support in OWA allows your users to be productive when offline or on intermittently connected networks
You can now launch OWA in the browser and start working even if there is no network connectivity. Your emails and actions are automatically synchronized the next time connectivity is restored. This allows your users to be productive and have a great OWA experience even from remote locations with slow or intermittently connected networks or no network connection at all.
13. Bring all of your contacts together and automatically keep them up-to-date
People's professional networks span many different places. In Office 365, your users can import contact information from LinkedIn (and other networks in the future) so that they have all of their information in one place. Exchange will even find the same person across your personal contacts, GAL, and other networks and consolidate their information into one contact card, avoiding duplication and multiple contact cards with different information.
In Summary, Microsoft Exchange Server 2013 Preview
After testing and reading about the improvements and enhancements, I have some closing thoughts about moving forward with an implementation of Exchange 2013.
Coexistence with Exchange 2003 is NOT supported. Windows 2008 R2 is the only supported operating system and support for Windows 8 is in works.
Built in DLP (Data loss prevention). This is a great add on to Exchange server 2013. DLP will help and protect company's sensitive data and inform users of internal compliance policies. IT managers are going to love this!
Goodbye to RPC and welcome to RPC over HTTPS. This means the RPC packets will be wrapped into SSL packets for communication, which will allow greater ease of communication for remote users and internal servers.
Good things are in the works for Exchange Server 2013 and I'm looking forward to the first customer implementation.