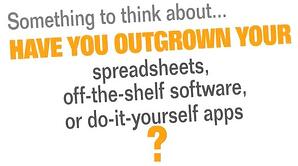 Are you running a small to midsize company? We understand that you need the right tools to be successful and this includes software that fits your business. So what about SAP Business One? You may have been told that SAP is too big to care about you or that SAP is more than you need. You may have even been told that when it comes to smaller businesses, SAP just doesn't get it. The facts about SAP tell a much different story.
In this post we bust several myths about SAP Business One.
Myth: SAP is too big for SMEs.
Fact: More than 79% of SAP customers are small to midsize businesses. That's over 82,000 SMEs already running SAP.
Myth: SAP doesn't understand small business needs.
Fact: SAP has been helping small and midsize companies for 38 years, across 25 industries. You really can get what you need.
Myth: SAP is hard to implement and support.
Fact: SAP has almost 10,000 partners all around the world, like Algorithm, to help support your business and their products.
Is SAP Business One starting to look like a good fit for your business after all? We think so.
What SAP Customers Are Saying:
"We realized that SAP could scale down for a small company, it wasn't too big and it wasn't going to be too complicated. We have about 60 employees and SAP certainly put us on the right path for growth."
- Cano Petroleum, Inc.
"SAP is an excellent fit for the mid-market size."
- Smith Micro Software
"We originally thought SAP was only for large companies. After evaluating different systems, we realized that SAP basically designed their mid-market products for companies just like ours. By purchasing SAP, we have a system that will stay with us through the years."
- Atlas Electronics Systems
To top it all off, SAP Business One is afforable, fast to implement and easy to use.