Pulse Dashboard
Real-time display of vital business metrics and detailed analysis of your Macola data.
Pulse Dashboard offers a great way to present data from your Macola ERP system as well as see real-time metrics not available in Macola. Pulse is pre-defined and user friendly and can be implemented in one day.
Everyone's business is a bit different and Pulse is easy to customize so that it works for any organization. It is designed for people to manage the business the way that they view it. From sales and marketing to inventory and aging, Pulse will focus on what's important to your role.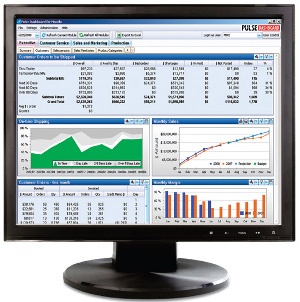 Pulse Modules Available:
Executive
Customer Service
Inventory
Purchasing
Financial Control
Sales and Marketing
Production
Material Requirements
Designer
How does it work?
PULSE works with the Microsoft SQL version of Macola Progression and ES to extract data in real-time for instant display and analysis.