CLOUD ERP SOFTWARE
UNLOCK YOUR BUSINESS POTENTIAL WITH ACUMATICA
Headquartered in Seattle, WA, Acumatica is a leading provider of cloud business management software that empowers small and mid-size businesses to unlock their potential and drive growth.
Acumatica technology was engineered by ERP veterans who have worked in the industry for more than 30 years, and who have expertise in accounting, distribution, project management, CRM, and more.
Built on the world's best cloud and mobile technology and a unique customer-centric licensing model, Acumatica delivers a suite of fully integrated business management applications such as Financials, Distribution, CRM and Project Accounting, powered by a robust and flexible platform.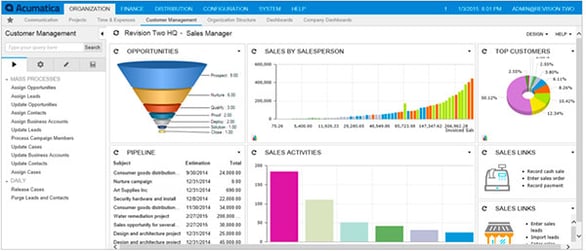 OUR CLOUD ERP PRODUCT IS LIKE NO OTHER
TAKE CONTROL OF YOUR BUSINESS
Successful companies know the value of having visibility and control over their business. Acumatica enables you to drive growth, manage costs, and be productive.
PLAY TO YOUR STRENGTHS
Every business is unique. Play to your strengths by doing what works best for your company. Tailor your business management software to fit your exact needs, no matter how specific your requirements.
EMPOWER YOUR PEOPLE
Your business isn't confined to four walls. Why should the people who impact your business be? Acumatica goes wherever your people go — anytime, anywhere, and on any device.


Resources for the Manufacturing Space


Aberdeen Report: Unified Manufacturing Environment
In this report you will find:
How a lack of visibility leads to some of the top challenges facing manufacturing
Top strategies used by discrete manufacturers
A unique defining factor for leading manufacturers
Aberdeen Report: Creating a Modern, Effective Manufacturing Environment with ERP
In this report you will find:
The challenges facing the modern manufacturing environment
What makes a top manufacturer's ERP programs stand out when a majority have implemented ERP
ERP modules implemented by leading manufacturer's
ICD InfoBrief sponsored by Acumatica: Cloud Applications for Agile and Fast-Growing Businesses
In this report you will find:
Top technologies driving SMB growth
SMD cloud strategy in 2017
Top concerns for SMBs considering a move to the cloud
acumatica customer success stories
400% PRODUCTIVITY GAINS
AME Corporation, a mid-sized manufacturer with operations in the US and China, sees 400% productivity gains with Acumatica. Screens open three times faster, navigation time between records is halved, and integration is seamless with online content sharing platform Box.
$80,000 SAVINGS PER YEAR
P'kolino, a design firm in the US, switched its ERP system from Quickbooks to Acumatica. As a result, the company doubled productivity, saw a 75% reduction in data errors, and saved $80,000 a year, mainly through the automation of sales orders.


---
Interested in hearing more Acumatica Customer Success Stories? Click here to read more of their case studies!
---
AWARDS
Check out what the industry is saying:
2014 SIIA CODiE Winner
2014 CODiE Award Winner
Top 20 Coolest Cloud Vendors 2014
Top 100 Coolest Cloud Vendors 2014
CRN 5-Star Partner Program
2014 Gold Stevie Award Winner
Implementing Acumatica with Algorithm
Algorithm is a Certified Gold Partner with Acumatica—this means our staff has reached the highest level of expertise and training in order to ensure we deliver the best implementation experience to our clients.
This coupled with our 200+ years of combined ERP experience, an unparllaled understanding of business process requirements, and an insatiable desire to be the best gives our customers the confidence and results they deserve when implementing Acumatica.